LM Gateway101-IoT
---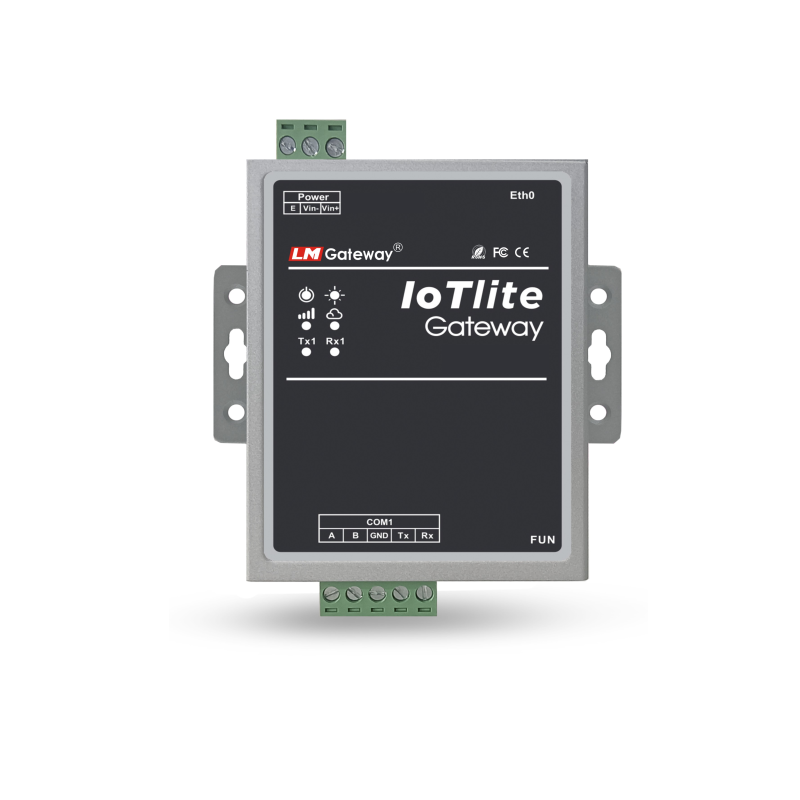 IoT Gateway
---
LM Gateway101-IoT data acquisition gateway provides one RS-485 serial ports and one 10/100 Mbps Ethernet port. The data acquisition drivers such as Modbus, BACnet, OPCUA, DLT645, Siemens PLC are embedded in the gateway, providing private protocol driver integration. The gateway can be used as Modbus RTU, Modbus TCP server to provide external data. The gateway and cloud platform use the instant messaging protocol MQTT to transmit data. The gateway can be used as an MQTT client to connect to Alink (Alibaba Cloud) Tlink. Write operation
Buy online
| | |
| --- | --- |
| CPU | ARM926EJ,300MHz |
| RAM | 64MByte High performance memory |
| Nand Flash | 128MByte SLC Flash |
| Serial port | RS485X1 |
| Network port | 1 100M/10M Ethernet interface |
| Power | DC9V~48V |
| Total Weight | 170g |
| Enclosure rating | IP51 |
| Mechanical Dimensions | 98.5mm×96mm×27mm(L×W×H) |
| Mechanical installation | DIN rail card slot fixing |
| Power consumption | The maximum power consumption of the motherboard is ≤2W |
| Operating temperature | -40~85℃ |
| Working relative humidity | 20 to 90% non-condensing |
Instrumentation
Data acquisition driver
Serial port
Network port
Modbus protocol
Modbus RTU
Modbus TCP, Modbus RTU_over_TCP
DLT645 protocol
DLT645-1997, DLT645-2007
/
CJ188 protocol
CJ188
/
Mbus
MBus_EnergyMeter, MBus_EN1434
/
PLC
Mitsubishi Agreement
Mitsubishi Fx3U
/
Mitsubishi Fx485
/
/
Mitsubishi_QBinary
Siemens protocol
Siemens S7-200 PPI
Siemens S7-200 Network
/
Siemens S7-300 Network
/
Siemens S7-400 Network
/
Siemens S7-1200 Network
/
Siemens S7-1500 Network
AB
/
AB NET
OMRON Protocol
OMRON_HOSTLINK
OMRON_FINS
Building communication
BACnet protocol
BACnet MS/TP
BACnet IP
Industrial control and automation interface standards
OPC protocol
/
OPC UA, OPC DA, OPC XML DA
Substation communication standard
IEC protocol
/
IEC104
Non-standard protocol
Instrumentation
Yiling temperature controller
/
dlt645 JX Digital
/
dlt645-2007 extended protocol
/
Jiangsu Runyi Water Meter
/
HL-MODBUS protocol
/
CJ/T133-2012 IC card water meter
/
DLT645-Fee Control
/
CJ/T133-2012 MBus IC card water meter
/
ModbusRTU_TancyA1
/
Allen_Bradley_DF1
/
modbus Shendong 43
/
CJ188贵翔
/
Beijing Mingcheng Zhonghui Sunshade Curtain
/
SGA400
/
DEET-BUS
/
Internet interface
Internet collection
/
mqtt client subscription
/
Gold map weather forecast
/
Zhejiang Dahua HTTP
/
HTTP collection
/
Air Quality
Gateway acts as Modbus RTU, Modbus TCP server provides external data

Support 0x, 1x, 3x, 4x, 4 functional areas

Supports int16, int32, float32 and various data types

---

The gateway provides an http server, which supports two common methods of GET and POST. Users can retrieve the real-time data and stored historical data of the gateway through the http server interface.

---

The gateway can serve as an MQTT client, connecting Alink (Alibaba Cloud), Baidu Cloud, Tencent Cloud, Tlink and other private clouds.

Push the data points of the gateway to the cloud through a subscription and publishing mechanism. The gateway reads and writes the front-end equipment.Romi Measurement & Control launched the IoT data center, which is convenient for users to verify IoT applications such as gateways, cloud services, and WeChat public accounts.